Look out for koalas near Port Macquaries roads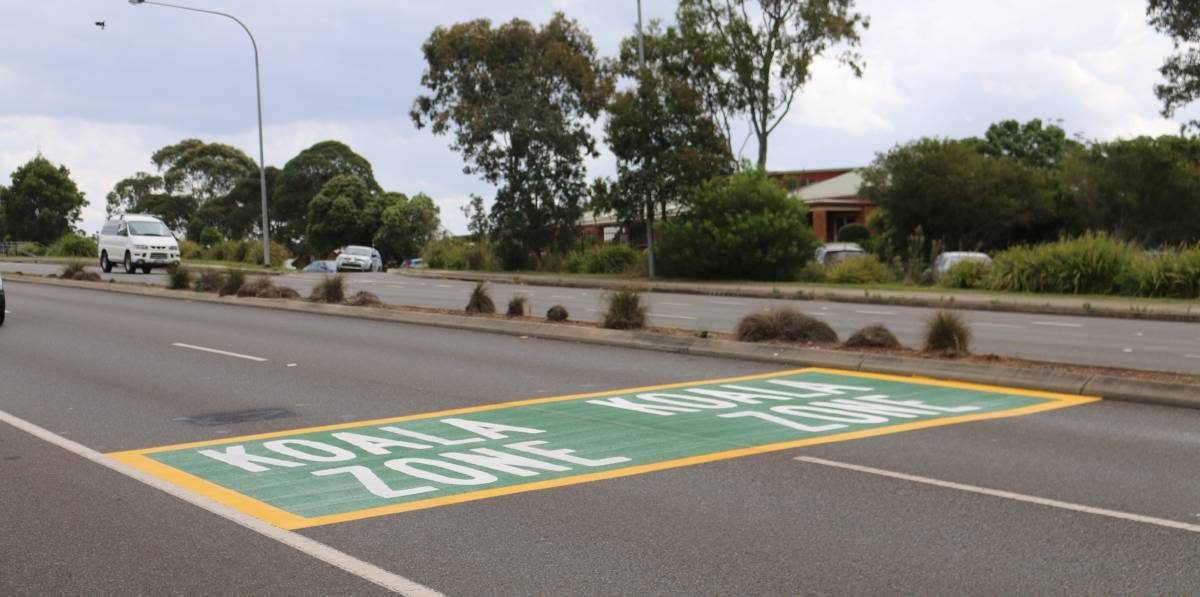 A painted koala crossing message at a road strike black spot encourages drivers to keep an eye out for koalas. Road strike by cars and other vehicles is responsible for the majority of injuries and koala deaths within the area.
Port Macquarie-Hastings Council has painted koala crossing messages on Ocean Drive in Port Macquarie, a known road strike black spot, to help create awareness  and provide guidance to drivers.
Mobile message boards will also encourage drivers to slow down and keep a keen eye out for koalas.
Council acting director Dan Croft said the council took the protection of our koala population extremely seriously and was working hard with a number of agencies, including the Port Macquarie Koala Hospital, to protect the much-loved species.
"During spring and summer koalas are far more active and on the move as they find mates and new home ranges, and it is at this time that we see a dramatic increase in road strikes," Mr Croft said.
The section of Ocean Drive between Koala Street and Christmas Bells Plains is a known road strike black spot with koalas regularly seen trying to cross the road.
"These attempted crossings increase in the early morning and late afternoon, which unfortunately coincides with peak traffic times, and it is important that we are always all on high alert, even more so during these busy periods," Mr Croft said.
The council will remove some of the vegetation from the median strips to provide greater visibility of koalas to road users and is working on integrating a koala-proof fence and upgrading of underpasses on Ocean Drive to provide safer passage for koalas.
The koala road safety initiative has been made possible through funding assistance from the state government's Saving our Species Program.
Residents and road users are urged to immediately call the Port Macquarie Koala Hospital on 6584 1522 (24 hours) if a koala is seen in distress or has been injured.
Further information is available at pmhc.nsw.gov.au/wildlife or by calling the council on 6581 8111.
Credit: Port News